Monday, February 18, 2008
Sunday, February 3, 2008
The filmmaker Wolfgang Busch completed a recent collaboration with theatre director and playwright Aixa Kendrick and with playwright Leonardo Benzant in their play, Black Circus.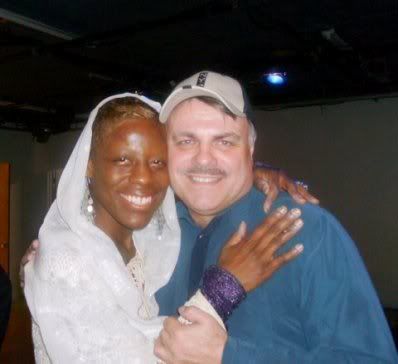 Black Circus was produced as part of programming by BAX/Brooklyn Arts Exchange, a multi-arts non-profit organization based in Park Slope, Brooklyn. BAX aims to provide a "nurturing, year-round performance, rehearsal and educational venue in Brooklyn that encourages artistic risk-taking and stimulates dialogue among diverse constituencies."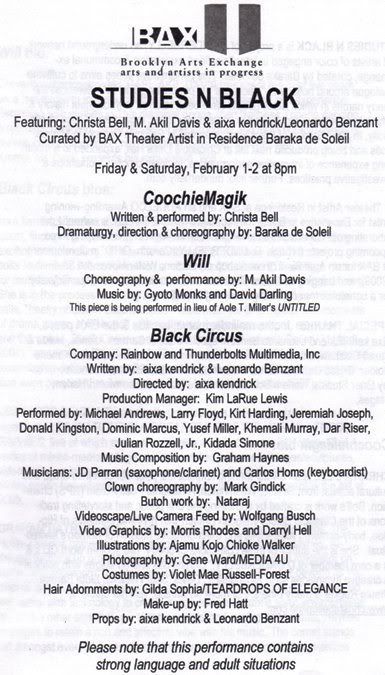 Wolfgang is a multi-media and experimental video artist for the past 20 years. Most of his work was in collaboration with his artistic partner in crime, Darryl Hell from Sektor 6 Kommunikations. Wolfgang's work can be seen in the experimental film Electronica, club mixes for Tronic, underground video remixes set to music by Traci Lords, the award winning documentary How Do I Look
, and Hellab. Wolfgang is a social and artistic activist for the LGBT community and is the founder of Art From The Heart. Its mission is to empower the underserved artistic communities by bringing the spotlight to the community through alternative and mainstream media.
About Black Circus:
In Aixa Kendrick and Leonardo Benzant's Black Circus, spectators are plunged into a world of absurdity, surrealism and dreams. Using elements of pop culture, mass media and archetypal symbolism interwoven with epic theater, African ritual, Butoh, Commedia del Arte and hip hop, Black Circus engages the spectator in a stream-of-consciousness discourse and social commentary on identity and collective perception.